AGS Movers Zagreb
Vukomericka 15 . Velika Gorica . 10 410
Selidbe Zagreb
AGS Movers Zagreb je vaš međunarodni partner za selidbe, koji nudi privatnim i poslovnim klijentima prilagođena i inovativna rješenja za selidbe i skladištenje. Stručno znanje AGS Movers Zagreb će vam osigurati da je vaša selidba profesionalna i besprijekorna bez obzira na destinaciju.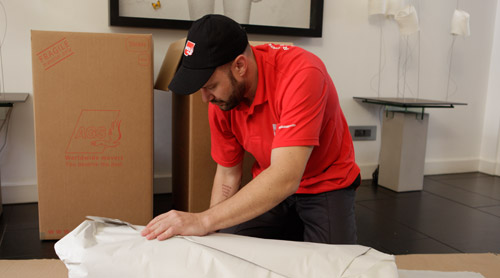 Established in 1988, AGS Movers Zagreb has 30 years' experience in the moving industry.
As a branch of a major player in the global mobility industry, AGS Movers Zagreb not only benefits from the AGS Group's extensive network of 146 locations in 99 countries, but also its experience and processes.
AGS Movers Zagreb ensures professionalism and world-class quality standards and offers its clients unmatched expertise in removals and secure storage services.
ZATRAŽITE BESPLATNU PONUDU
Domestic & International Removals Solutions
AGS International Movers offers excellence to each of its clients.
Više o AGS Zagreb

4

kamiona

Skladište od 336 kvadratnih metara
---
---
Quality Standards
CERTIFIKACIJA I ČLANSTVA
AGS Movers Zagreb u potpunosti garantira kvalitetu svoje usluge svim svojim klijentima. Više of četrdeset godina, AGS Group određuje svojoj međunaradnoj mreži ureda stroge procedure za kvalitetu koje važe i u ovoj podružnici. Ove prakse dolaze od općih standarda za kvalitetu ali i od standarda koje su postavila najprestižnija tijela za certfikaciju u selidbenoj industriji.
Ovi dugoročno priznati standardi garantiraju bez obzira da li dolazite u Zagreb ili odlazite, AGS Group vam sigurno pruži najbolje usluge za selidbe i skladištenje.
Our Clients
AGS Zagreb's clients include international corporates and diplomatic organizations, such as the Embassies of Israel, France, India, Malaysia, Belgium, Greece and Japan, the Delegation of the European Union, Nestlé, Peugeot, Société Générale Splitska Banka, ABB, Reckitt Benckiser, Nokia Siemens, ALD, Steelcase, Schneider Electric, DNV and
Alcatel.